Rental Assistance Week Application Drive throughout Monmouth County
(985) 291-2809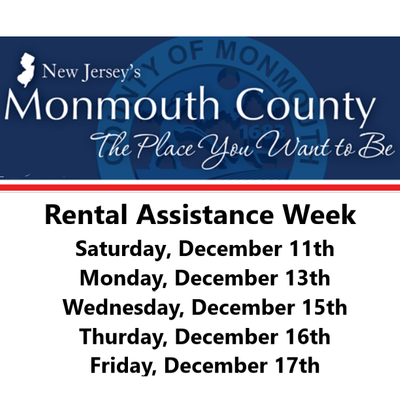 Personnel will be on location at the following dates and times to help residents apply for Monmouth County's Emergency Rental Assistance Program (ERAP).
Application can take place on the spot and in person assistance will be available.
Saturday December 11th, Mon. Dec. 13th, Wed. Dec. 15th, Thurs. Dec. 16th, Fri. Dec. 17th
Who is eligible?
a. one or more individuals within the household has qualified for unemployment benefits or experienced a reduction in household income, incurred significant costs, or experienced other financial hardship due, directly or indirectly, to the COVID-19 outbreak;
b. one or more individuals within the household can demonstrate a risk of experiencing homelessness or housing instability; and
c. the household has a household income at or below 80% of area median. (Link to citation)