Behavioral Health Hub
ChairS
Desiree Whyte, Director, Monmouth County Division of Behavioral Health
Wendy DePedro, President/CEO, Mental Health Association of Monmouth County
Mary Pat Angelini, CEO, Preferred Behavioral Health Group
Mission
Through public/private partnerships, the Behavioral Health Hub plans, supports and evaluates the development and implementation of innovative, locally organized and integrated systems of high-quality behavioral health and support services; providing clear information and easy access to early detection, early intervention, treatment and continuing care with wellness and recovery as the goal for all Monmouth County residents.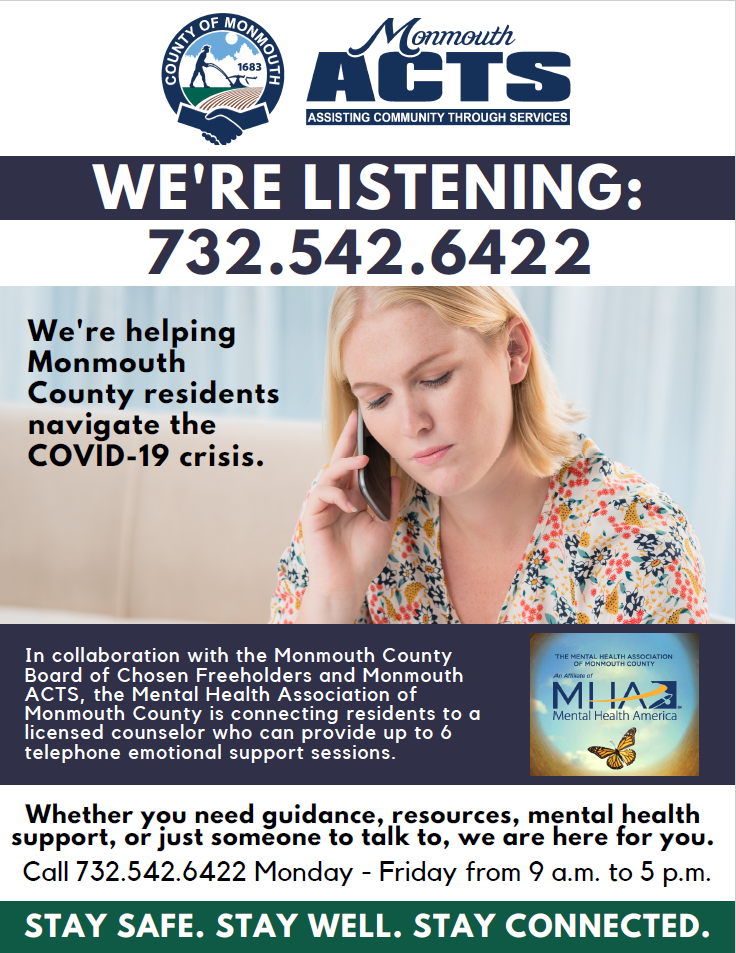 Monmouth County's COVID-19 Pandemic Resource Guide
Monmouth County's COVID-19 Pandemic Resource Guide provides information about a range of necessary services including food pantries, designated senior store hours, food delivery and curbside service, pharmacies, crisis counseling, behavioral health services, health department and poison control, caregiver support, disability services, veterans and first responders support and benefits as well as financial assistance.
Agency/Focus
Garden State Equality: LGBTQ advocacy, education, and support.
Health Improvement Coalition of Monmouth County: Connects county health resources, organizations and community leaders so that they work together more effectively and efficiently to improve health and wellness in our county.
Brookdale Community College: Community college education and resources for students, including mental health resources.
Family Based Services of NJ: Peer-based support for families with youth involved with the Children's System of Care Resource information and referral.
Monmouth County Health Department: Health resources, vaccination clinics, ARCH nurse, Overdose Fatality Review Team, health education
Visiting Nurse Association: Health Center, harm reduction/syringe access.
Mental Health Association of Monmouth County: Family crisis intervention unit, mental health support, and advocacy.
Family and Children's Service of Monmouth County: Provides an array of community services addressing homelessness, neglect, abuse and exploitation, health and respite care, financial instability due to physical, developmental, or mental disabilities, and childhood literacy and obesity.
Monmouth County Regional Health Coalition: County health resources, education.
RWJ Barnabas Monmouth Medical Center: Psychiatric and mental health services, inpatient and outpatient Psychiatric Screening Services, adults, and children Early Intervention Support Services.
Wellspring Center for Prevention: Prevention programming.
180 Turning Lives Around: Domestic violence.
Monmouth County Division of Behavioral Health: Information and referral, Grant administration for prevention, treatment, and recovery supports. Intoxicated Driver Resource Center.
Hackensack Meridian Jersey Shore University Medical Center: Psychiatric and mental health services, inpatient, and outpatient.
Monmouth County Mental Health Board: Planning board for mental health services.
RWJ Barnabas Institute for Prevention and Recovery: Prevention and recovery programming and activities Peer Recovery Program.
CPC Behavioral Healthcare: Outpatient mental health and substance use treatment service.
YMCA of Greater Monmouth County: Outpatient mental health and substance use treatment services.
Preferred Behavioral Health Group: Outpatient mental health and substance use treatment services.
Monmouth County Board of Addiction Services: Planning board for addiction services.
New Hope Integrated Behavioral Healthcare: Substance Use/Co-occurring treatment facility Outpatient substance use and mental health services Halfway House services.
Monmouth County Prosecutor's Office: Operation Helping Hand-Supports for those with opioid use disorder.
Monmouth County Office on Aging, Veterans, and Disabilities: Information, resource connection.