Stronger than Cancer
Tuesday, June 7, 2022
9:00 AM - 12:00 PM
Lakewood
This event has already occurred!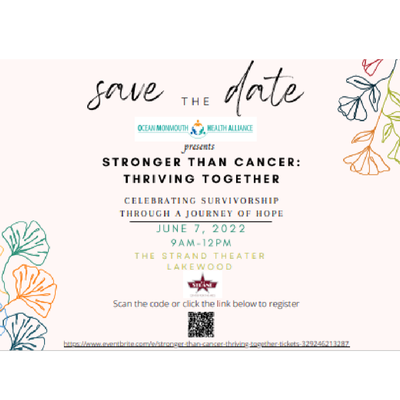 THIS EVENT WILL ALSO BE LIVESTREAMED
Celebrating survivorship through a journey of hope!
About this event
Stronger Than Cancer: Thriving Together aims to empower communities affected by a cancer diagnosis. This event is for cancer survivors, those in treatment and their loved ones/caregivers. It is also an opportunity for cancer and chronic disease prevention service providers to come together and align missions.
We will be celebrating survivorship through a journey of hope. For those who cannot attend a virtual option is available as we will be livestreaming the event. This free community event will be held at the beautiful Strand Theatre in Lakewood, NJ as they celebrate 100 years in 2022!
During this event, you will hear from some of our amazing speakers such as:
Dr. Carol Penn, doubly Board Certified in Family Medicine and Obesity Medicine
Dr. Latasha Thomas, PT, DPT, NCS – CEO and Founder of Extend Physical Therapy, LLC
Dr. Lori Magoulas, Registered Dietitian/Nutritionist at Rutgers Cancer Institute of New Jersey
Phillip Falzone- Cancer Survivor
Korrine Bigelsen- Cancer Survivor
There will be opportunities for the in-person and virtual audience to ask questions.
We will be serving a light breakfast. Exhibitors will be present to provide great information about their services. If you would like to showcase the resources the organization you represent offers, please join us. If you would like to participate please fill out the Exhibitors Registration form attached or contact [email protected]
In addition to meaningful conversation, there will also be raffles, empowering table activities, and giveaways.
We will be honoring all of the cancer survivors registered for the event, please indicate that you are a cancer survivor on the registration form. We will be giving out special gifts to all of the survivors registered.
Last Updated: 05/24/22