Say It With Clay
(856) 858-5994
Collingswood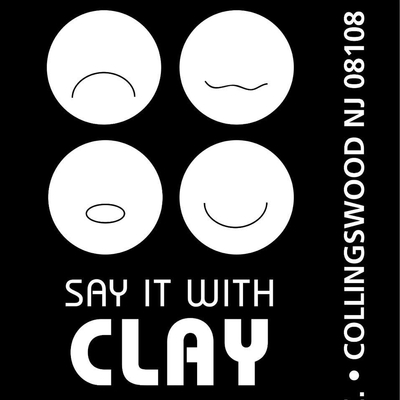 Say It With Clay is a non-profit organization whose mission is to help people with diverse special needs benefit from the therapeutic power of clay. Revealed through a level of relaxation, this process creates pride, success and motivation for healing. Utilizing a hands-on therapeutic approach with clay, we offer clients effective alternative channels for communication in our studio, or at your location.
Some of the Invaluable Benefits of Clay Include:
Gives people a voice to tell a story
Helps discover individual style
Generates healing
Improves socialization skills
Creates pride
Builds patience
Promotes problem solving skills
Promotes positive peer interaction
It makes people happy
Promotes relaxation
Gain 3-Dimensional perspective
Non-threatening material
Enhances fine motor skills
Creates ownership
Helps develop life skills by using a youth development approach
Creates a safe atmosphere
Something to look forward to
Creates spontaneity
A way to speak without saying a word
Anyone can do it - there's a true artist inside everyone!
Working with a 3-dimensional material such as clay offers an atmosphere that is non-threatening, safe, fun and therapeutic. With patient and nurturing instructors, freedom of expression and relaxation are easily achieved. Creative juices quickly begin to flow and masterpieces come to life, offering clients increased self-esteem, a strong sense of ownership, and a great boost of pride.
Age Groups

Children
Adolescents
Adults
Seniors

Community Services

Arts & Recreation

Community

Education

Seasonal Programs

Health Services

Behavioral / Mental Health

Developmental Needs

Medical

Treatment Services

Outpatient Providers

Outpatient Services

Treatment Settings

Home
Hospital / Clinic
Office / Practice
School

Payment Options

Private / Commercial Insurance
Scholarships / Financial Aid
Self Pay
System of Care (CSOCI Medicaid / FlexFunds)
Last Updated: 12/30/17