Free Transportation for Asbury Park Residents During COVID-19 Pandemic
(201) 939-4242
Asbury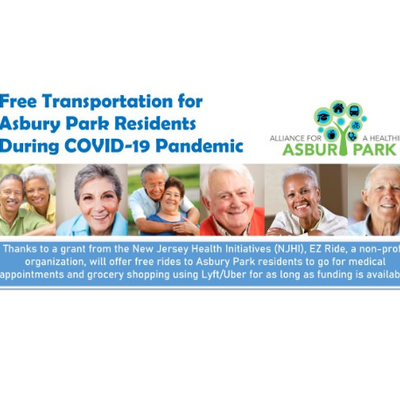 Thanks to a grant from the New Jersey Health Initiatives (NJHI), EZ Ride, a non-profit organization, will offer free rides to Asbury Park Residents to go for medical appointments and grocery shopping using Lyft/Uber for as long as funding is available.
To use the free ride service:
Riders must have a cell phone.
Riders traveling alone must be over 18 years old.
Riders must wear a face covering for the entire duration of ride.
The ride must start in Asbury Park and have a maximum distance of 15 miles.
The purpose of the trip must be to go grocery shopping or to a medical appointment.
Rides must take place between Monday and Friday between 8 AM and 5 PM.
All rides are on a first come first served basis and subject to availability.
How to reserve a ride
Reservations can be made Monday through Friday between 8 AM and 5 PM.
Reservations must be made at least one day in advance.
To reserve, call Customer Service at (201) 939-4242 (Option 1) and provide them with:

Full Name
Cell Phone Number
Pick Up Day and Time
Purpose of Your Trip
Pick Up Address
Drop Off Address
Let Customer Service Know if a return ride is needed.
At the time of your reservation
You must call Customer Service to activate your ride. No vehicle is dispatched if this call isn't made.
At your reservation time, call (201) 939-4242 (Option 1) and give them your reservation details.
A vehicle will then be dispatched to arrive as soon as possible (subject to availability).
The vehicle plate number, name of the driver, and ETA will be sent to the rider's cell phone via text message.
The rider must be ready to board as soon as the vehicle arrives.
The driver will not wait for the rider and a replacement may not be available during these uncertain times.
If necessary, the dispatcher will call the rider and/or the driver to connect the two of them with each other.
For more information on the EZ Ride Free Transportation for Asbury Park Residents Program, call Barbara Friedman at (201) 939-4242 (ext. 223) or email [email protected]
| | |
| --- | --- |
| Eligibility | Riders must have a cell phone. Riders traveling alone must be over 18 years old. Riders must wear a face covering for the entire duration of ride. The ride must start in Asbury Park and have a maximum distance of 15 miles. The purpose of the trip must be to go grocery shopping or to a medical appointment. Rides must take place between Monday and Friday between 8 AM and 5 PM. All rides are on a first come first served basis and subject to availability. |
| Age Groups | |
| Community Services | Basic Needs / Assistance |
Last Updated: 05/01/20