Youth Justice in New Jersey - Community Listening Session - Trenton
Thursday, January 16, 2020
6:00 PM - 8:00 PM
Trenton
This event has already occurred!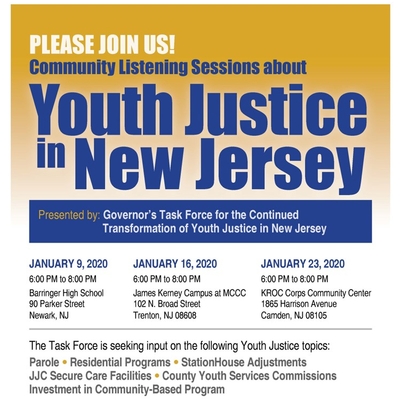 The Governor's Task Force for the Continued Transformation of Youth Justice in New Jersey will issue recommendations to the Governor's Office, the Department of Law and Public Safety, other Executive Branch departments and agencies, and the Legislature; these recommendations will be made available to the public.
The Task Force is seeking input on the following Youth Justice topics:
Parole
Residential Programs
Stationhouse Adjustments
JJC Secure Care Facilities
County Youth Services Commissions
Investements in Community-Based Programs
The Task Force was created by Executive Order in October 2018 and is charged with, among other things, considering actions and strategies to continue reforming New Jersey's Youth Justice System.
Age Groups
Community Services

Community

Legal / Advocacy

Areas Served
Last Updated: 01/07/20