Heart and Soul Health Expo
Saturday, February 22, 2020
2:00 PM - 4:00 PM
Long Branch
This event has already occurred!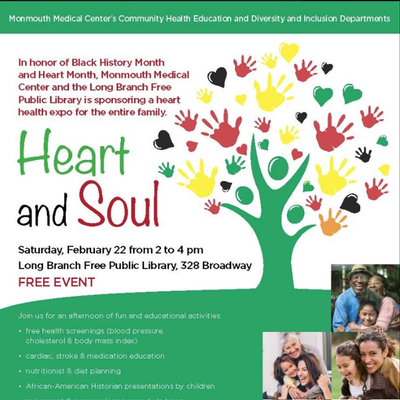 In honor of Black History Month and Heart Month, Monmouth Medical Center and the Long Branch Free
Public Library is sponsoring a heart health expo for the entire family.

Join us for an afternoon of fun and educational activities:
• free health screenings (blood pressure,
cholesterol & body mass index)
• cardiac, stroke & medication education
• nutritionist & diet planning
• African-American Historian presentations by children
• movement & exercise (jump rope, hula hoop,
musical chairs, etc.)
• Safe Kids NJ – Monmouth/Ocean Chapter -
safety games & prizes
• refreshments & healthy snacks

For more information call 732-923-6994 or
732-222-3900, Ext. 2350.
Health Services

Crisis / Safety

Medical
Last Updated: 01/27/20