April is National Child Abuse Prevention Month! Every Child Matters
Wednesday, April 14, 2021
5:00 PM - 6:00 PM
Meets Weekly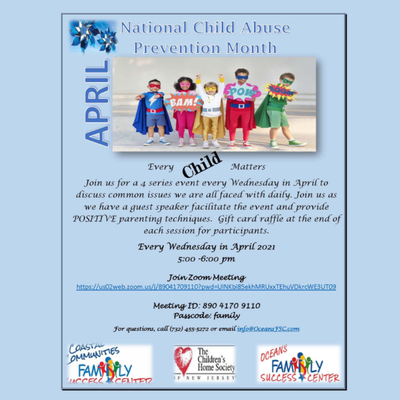 Event by Oceans Family Success Center
Online: us02web.zoom.us
Wednesday at 5 PM EDT – 6 PM EDT
Price: Free · Duration: 1 hr
Public · Anyone on or off Facebook
April is National Child Abuse Prevention Month!
Every Child Matters
Join us for a 4 series event every Wednesday in April to discuss common issues we are all faced with daily. Join us as we have a guest speaker facilitate the event and provide POSITIVE parenting techniques. Gift card raffle at the end of each session for participants.
Every Wednesday in April 2021
5:00 -6:00 pm
Join Zoom Meeting
https://us02web.zoom.us/j/89041709110...
Meeting ID: 890 4170 9110
Passcode: family
For questions, call (732) 455-5272 or email [email protected]
Age Groups
Community Services

Community

Family & Support Services

Health Services

Crisis / Safety
Last Updated: 04/05/21