Monmouth County Council for Young Children (CYCC)
(732) 673-8348
Freehold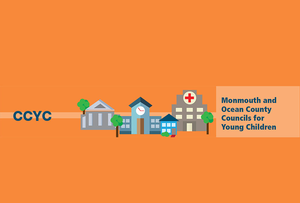 The Monmouth County Council of Young Children (CCYC) was created by Executive Order in 2010 to serve as the Governor's state advisory council for early care and education as authorized in the Improving Head Start for School Readiness Act of 2007.
The CCYC participates in parent advocacy groups with parents of young children birth to 8 years. One on one assistance with resource and referrals through our Family Advocate. Resource and referrals for community services such as: Early Intervention, Cancer Education and Early Detection, WIC, Community Health Centers- medical services, insurance application and assistance, SCHS and Home Visitation.
Additional Initiatives – Resource and referrals through the Early Childhood Success Hub agency partner program. In collaboration with CARC we offer computer education classes along with ESL classes.
Populations Served: Families throughout Monmouth County with children ages birth through 8 years.
Age Groups

Children
Adolescents
Adults
Seniors

Community Services

Community

Education

Family & Support Services

Health Services

Intellectual and Developmental Needs

Areas Served
Last Updated: 09/28/22