Freehold Borough Public Library
(732) 462-5135
Freehold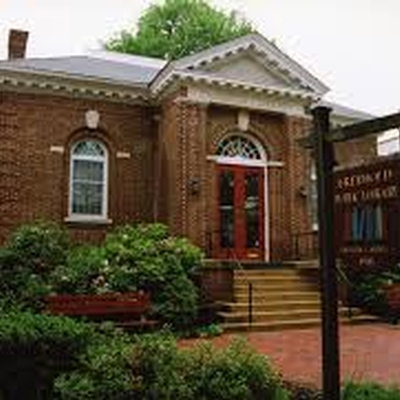 The Freehold Public Library the free public library of Borough of Freehold, New Jersey located at 28 1/2 East Main Street. Serving a population of 11,000 residents and with a collection of approximately 26,000 volumes the library has a yearly circulation of circa 28,000 items.
LIBRARY BUILDING IS OPEN (M-F, 9-5).
"Hands-Off Holds" service continues!
Email: [email protected]
Library Phone: 732-462-5135
24-Hour Voice Mail: 848-863-5075
Trustees Meetings have moved to ONLINE FORMAT, 2nd Tuesdays at 7 pm
Public welcome to attend.
What can I do with my library card?
• "Hands-Off Holds" service remains available. Call or email for details.
• You can borrow books, books on CD, music CDs, magazines and DVD movies (high-school or older to borrow movies).
• You can borrow eBooks and digital audio via eLibraryNJ.
• Download movies, documentaries and courses via Kanopy.
• Access special online databases: JerseyClicks Home Page.
Who can get a library card?
Anyone that lives, works or attends school in the BOROUGH of Freehold may have a free card at this library.
What do I need to do to get a library card?
DURING COVID-19 CLOSURE: email [email protected], or bring in something that shows your current address in Freehold BOROUGH. Something like a drivers license or utility bill works great. Children 8th grade and younger need parent/guardian's signature.
What if I don't live in Freehold BOROUGH but want to borrow things from Freehold Public Library?
No problem! You can pay an annual fee of $25 for full membership.
Use Our Computers
Anyone may use our computers for email, surfing the web, typing, etc. Bring your own flash-drive or headphones (our buy earbuds from us, $2) if desired. Full-color printing available ($0.20 per page). Use restricted to a half-hour per day due to COVID-19 accommodations.
WiFi
Free and open. Enjoy our wireless signal from the front plaza, the rear garden or inside (plug-in for electricity available).
Photocopier
Black and white copies (single sided). Letter or Legal size is $0.15 per page.
To learn more about all the goings-on at your library, get on our Newsletter email list! Just email a request to [email protected]
Last Updated: 09/09/20