Beacon of LIFE – A PACE Program
(732) 592-3400
Oceanport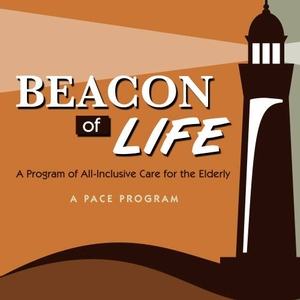 Beacon of Life provides community-based care and services to people who may require nursing home level of care. PACE was created as a way to provide the elderly with flexibility to receive health care and recreational care needs while helping them remain in the comfort of their own community.
What is a PACE program?
A PACE program is a managed care benefit for the community-dwelling frail elderly, featuring medical and social services in an adult daycare setting. These services are supplemented by in-home and referral services depending on participant needs. Skilled healthcare professionals make that determination.
What is the goal of PACE?
The goal is to help achieve and maintain the highest functional level for each participant, keeping in mind that each person has a different maximum potential. PACE programs seek to effectively manage chronic conditions and reduce the number of re-hospitalizations. The capitated pay structure offers incentive for providers to manage the provision of care and to maintain a state of relative wellness for each participant. PACE organizations focus on helping the frail and elderly live in the community for as long as possible, and to meet this goal, PACE organizations focus on preventive care.
What services are provided at a PACE center?
PACE centers provide participants with ongoing needs care along a broad continuum. These services include nursing and personal care, as well as physical, occupational and recreational therapy. Meals and nutritional counseling promote wellness and many forms of healing. Social services are provided to help participants and their family members. Other services include the following:
Primary Care
Hospital Care
Medical Specialty Services
Prescription Drugs
Nursing Home Care
Emergency Services
Home Care
Physical therapy
Occupational therapy
Adult Day Care
Recreational therapy
Meals
Dentistry
Nutritional Counseling
Social Services
Laboratory / X-ray Services
Social Work Counseling
Transportation
Are there doctors available at the center?
Each PACE program has a group of physicians on staff providing medical care as needed. This group is typically composed of a medical director that guides the program and oversees the other physicians. PACE physicians become familiar with the history, needs and preferences of each participant. Medical specialties, such as audiology, dentistry, optometry, podiatry and speech therapy are usually present.
What if I need to see another specialist and how will I get there?
PACE organizations provide all medically-necessary transportation to the PACE center for activities or medical appointments. You can also get transportation to appointments in the community.
Who is eligible to participate in a PACE program?
When enrolling, participants must be 55 years of age or older, require nursing home level of care and must be able to live safely in the community. Participants must live in the PACE service area as well.
Who pays for PACE and how much will it cost?
Oftentimes, understanding government-based websites can be difficult because of the jargon and technical language. It is helpful to boil down this information to its simplest form. There are several ways PACE participation is paid for; Medicare and Medicaid are the largest contributors to the program, but there are other options:
Medicare
The participant can have Medicare as the only source of insurance with either part A or part B separately or combined. There is an out-of-pocket cost due to a long term care premium that is not covered since those participants do not have Medicaid.
Medicaid
These participants have only Medicaid coverage and no other.
Dual Eligible
Includes participants who are covered by Medicare AND Medicaid.
Private Insurance
Includes participants who have long-term care insurance (or other insurance) that pays, either in whole or in part, the long-term care premium.
Private Pay
Includes participants who pay both the Medicare and Medicaid capitation amounts privately out-of-pocket. The program also accepts participants who pay privately.
If you qualify for Medicare, all covered services are paid for by that payer source. If you also qualify for your State's Medicaid program, you will either have a small monthly payment or pay nothing for the long-term care portion of the PACE benefit. If you do not qualify for Medicaid, participants will be charged a monthly premium to cover the long-term care portion of the PACE benefit as well as a premium for Medicare Part D drugs. In PACE, there is never a deductible or copayment for any drug, service, or care approved by the PACE team. PACE agencies receive a set amount of Medicare and Medicaid funds each month to ensure participant care, regardless of the setting. There is an incentive to keep participants healthy.
| | |
| --- | --- |
| Eligibility | When enrolling, participants must be 55 years of age or older, require nursing home level of care and must be able to live safely in the community. Participants must live in the PACE service area as well. |
| Age Groups | |
| Community Services | Arts & Recreation |
| Health Services | Medical |
Last Updated: 12/20/21