The Howell Alliance's Kindness Rocks Program
Tuesday, November 9, 2021
Howell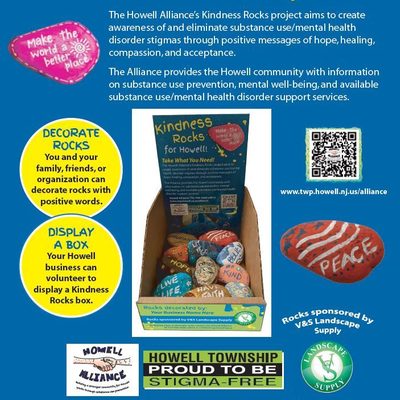 The Howell Alliance's Kindness Rocks Program needs volunteers. This program aims to create awareness of and eliminate substance use/mental health disorder stigmas through positive messages of hope, healing, compassion, and acceptance.
The Howell Alliance collaborates across the community to prevent substance abuse, underage drinking and marijuana use, alcoholism, tobacco/nicotine use, vaping, and other at-risk behaviors. It also promotes physical, mental, emotional, and social well-being and the reduction of substance use and mental health disorder stigmas through providing awareness, resources, and education to all community populations. Alliance stakeholders include law enforcement, educators, town officials, businesses, civic organizations, and concerned citizens.
To display a box or decorate rocks, contact the Howell Alliance at 732-938-4500 x4012 or [email protected]
You and your family, friends, or organization can decorate rocks with positive words.
Your Howell business can volunteer to display a Kindness Rocks box.
Last Updated: 08/05/21