S.E.A.L. Social Emotional Awareness Literacy Program for ages 2-5
Saturday, June 3, 2023
8:30 AM - 9:30 AM
Meets Weekly
Atlantic Highlands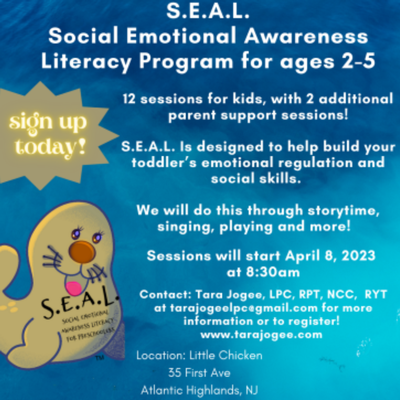 Twelve sessions for kids with two additional parent support sessions! S.E.A.L. is designed to help build your toddler's emotional regulation and social skills. We will do this through storytime, singing, playing and more!
S.E.A.L Social Emotional Awareness Literacy for Preschoolers
S.E.A.L. Social Emotional Awareness Literacy for Preschoolers® is an early learning program (developed by Lynn Louise Wonders in 2003) for young children implemented in preschool settings by mental health professionals to assist children, teachers and parents in increasing awareness and skills for identifying, expressing and managing emotions while developing effective, respectful assertiveness and communication skills. As a Certified provider, I work with preschools to offer this unique 12 week program in each individual school. I also offer S.E.A.L. periodically through my private practice for children and their families.
Last Updated: 04/04/23