Monmouth County Youth Wellness Summit at Brookdale Community College
Tuesday, May 17, 2022
7:30 AM - 1:30 PM
Lincroft
This event has already occurred!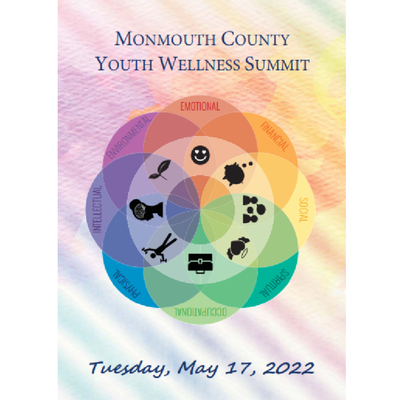 Monmouth County Youth Wellness Summit Tuesday, May 17, 2022 - Brookdale Community College
WHAT is a Youth Wellness Summit? The Youth Wellness Summit is a day-long event (7:30am-1:30pm) hosted by the Society for the Prevention of Teen Suicide (SPTS) and offered to Monmouth County public and private high schools at no cost. The summit was designed to provide students, staff, and administrators with the resources needed to support overall wellness, including the prevention of teen suicide and other upstream prevention measures.
By engaging participants with a variety of activities, students will be able to develop positive coping strategies, increase their knowledge as it relates to overall wellness, and learn practical techniques that can be easily implemented in their individual learning environments. The goal of the summit is to instill methods and practices for overall wellness and mental health, and to enrich students' lives by improving their ability to effectively problem solve, set goals, and increase their leadership skills. The summit will seek to motivate participants to return to their schools as positive role models and become partners in creating safe and fun places to learn.
All participants will receive a "Wellness Tool Kit" to share with their school and will leave enthusiastic about making a difference in their community.
Prior to Covid, SPTS has offered Youth Wellness Summits in Monmouth, Ocean, Middlesex and Morris Counties in New Jersey, and Nassau County in New York. Each Summit began with a powerful and interactive panel discussion presenting young people with inspiring stories of resiliency and hope. Throughout the day, effective prevention and wellness techniques will be presented on a variety of topics including coping skills, yoga, preparing for college and adult life, removing toxic friendships, building self-confidence, and effective communication skills.
This year, SPTS Youth Council members will reflect on last year's agenda and provide insight on important topics they would like additional help with.
WHO is invited to attend? All Monmouth County public and private high schools will be invited to select up to eight (8) students, four sophomores and four juniors, to attend the event. Additionally, schools will select two "Trusted Adults" or staff to attend.
Admission is FREE. Each school will be responsible for its own transportation.
If your school is in need of grant funding to help cover the cost of transportation, please visit fieldtripnj.org.
Students selected for this event should represent a cross section of the student body, as opposed to students who typically volunteer or are selected because they excel scholastically or are heavily involved in extracurricular activities. It is helpful to have students who are leaders within their social clique, so that they may carry the positive messaging back to their peer groups.
The "Trusted Adults" selected to represent your school may include your SAC, Guidance Staff, SRO, Coach, Teacher, Nurse, Food Service Staff… anyone in your school community who is most likely be approached by a student in need and is most likely to carry the messaging back to colleagues.
WHEN and WHERE is this event? Tuesday, May 17, 2022
Event begins with registration and breakfast at 7:30 am and concludes at 1:30 pm. Brookdale Community College has generously donated use of their Student Life Center for the event. 765 Newman Springs Road, Lincroft, NJ 07738
WHO is hosting this event? The 2022 Monmouth County Youth Wellness Summit is presented by SPTS and its Youth Council. This invitation is being mailed to your school Principal, Guidance Office, Student Assistance Counselor, and Nurse.
Please coordinate and only have one person register your school to attend. To register please visit www.sptsusa.org/MonmouthSummit or scan the QR Code above by April 22, 2022

For any questions, please contact [email protected] or 732-410-7900 (please mention the Monmouth County Summit
Last Updated: 04/26/22