Monmouth County COVID-19 Vaccines
Tuesday, October 19, 2021
2:00 PM - 6:00 PM
Meets Weekly
Lincroft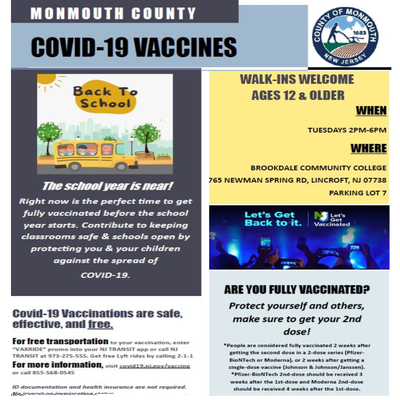 Walk-ins welcome ages 12 and older at Brookdale Community College! Right now is the perfect time to get fully vaccinated before the school year starts. Contribute to keeping classrooms safe & schools open by protecting you & your children against the spread of COVID-19.
Protect yourself and others, make sure to get your 2nd dose!
For free transportation to your vaccination, enter "VAXRIDE" promo into your NJ TRANSIT app or call NJ TRANSIT at 973-275-555.
Get free Lyft rides by calling 2-1-1
For more information, visit covid19.nj.gov/vaccine or call 855-568-0545
| | |
| --- | --- |
| Age Groups | |
| Health Services | Medical |
| Payment Options | |
Last Updated: 09/07/21