Mini Resource Fair at Brookdale Community College Lincroft - Third Tuesdays
Tuesday, October 3, 2023
11:30 AM - 1:00 PM
Lincroft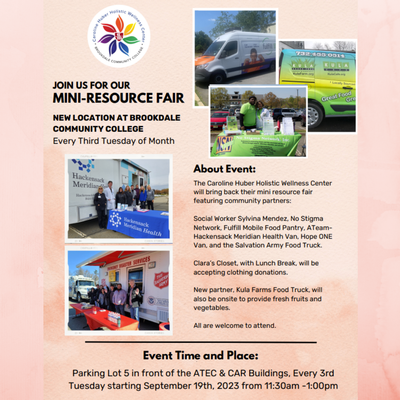 The Caroline Huber Holistic Wellness Center will bring back their mini resource fair featuring community partners:
Social Worker Sylvina Mendez,
No Stigma Network,
Fulfill Mobile Food Pantry
ATeam-Hackensack Meridian Health Van
Hope ONE Van
Salvation Army Food Truck
Clara's Closet, with Lunch Break, will be accepting clothing donations.
***New partner, Kula Farms Food Truck, will also be onsite to provide fresh fruits and vegetables.
All are welcome to attend.
Brookdale Community College through the Caroline Huber Holistic Wellness Center maintains a list of community organizations to enhance access to information about basic needs, health, well-being and medically-related resources available to the Monmouth County community. The College does not recommend or endorse any products, procedures, physicians, organizations or other services that may be included or referred to in the content on the website nor does exclusion of any organization, agency or service imply disapproval.
Last Updated: 09/18/23