Light the Night for the Shore CommUnity
Wednesday, May 18, 2022
5:00 PM - 8:00 PM
Wall Township
This event has already occurred!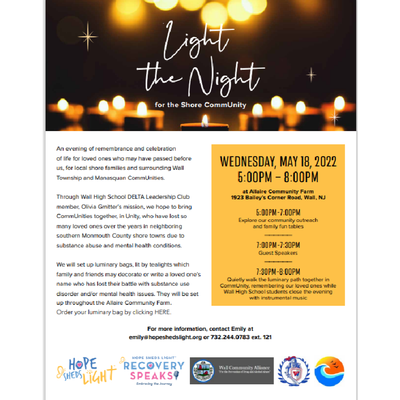 An evening of remembrance and celebration of life for loved ones who may have passed before us, for local shore families and surrounding Wall Township and Manasquan CommUnities.
Through Wall High School DELTA Leadership Club member, Olivia Gmitter's mission, we hope to bring CommUnities together, in Unity, who have lost so many loved ones over the years in neighboring southern Monmouth County shore towns due to substance abuse and mental health conditions. We will set up luminary bags, lit by tealights which family and friends may decorate or write a loved one's name who has lost their battle with substance use disorder and/or mental health issues. They will be set up throughout the Allaire Community Farm.
Order your luminary bag by clicking HERE. For more information, contact Emily at [email protected] or 732.244.0783 ext. 121
Please Host a Community Outreach table!
Last Updated: 04/27/22