Healing Girl Summer: A Body Image Group for Teen Girls
Monday, June 12, 2023
5:00 PM - 6:00 PM
West Long Branch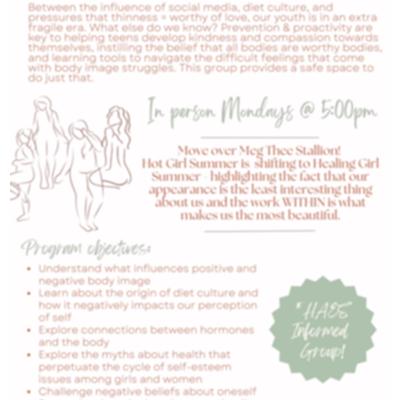 Between the influence of social media, diet culture, and pressures that thinness = worthy of love, our youth is in an extra fragile era. What else do we know? Prevention & proactivity are key to helping teens develop kindness and compassion towards themselves, instilling the belief that all bodies are worthy bodies, and learning tools to navigate the difficult feelings that come with body image struggles. This group provides a safe space to do just that.
Program Objectives:
Understand what influences positive and negative body image
Learn about the origin of diet culture and how it negatively impacts our perception of self
Explore connections between hormones and the body
Explore the myths about health that perpetuate the cycle of self-esteem issues among girls and women
Challenge negative beliefs about oneself
Recognize the role that shame and guilt play in self-image
Meeting bi-weekly Mondays @ 5pm. 8-week commitment required, In network with most major insurances. Visit our website at www.wholeheartedhc.org to fill out a New Client Form to get started!
Event Type

Advocacy
Community Conversation

Age Groups
Health Services

Behavioral / Mental Health

Medical

Payment Options

Private / Commercial Insurance
Self Pay
Sliding Scale / Payment Plans
Last Updated: 06/01/23