Dr. Martin Luther King, Jr. 2023 YMCA Essay Contest Opens
Friday, November 17 -
Friday, December 8, 2023
This event has already occurred!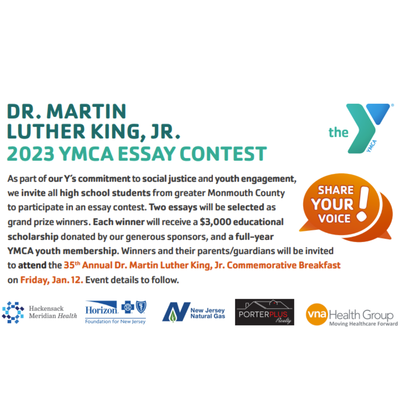 As part of our Y's commitment to social justice and youth engagement, we invite all high school students from greater Monmouth County to participate in an essay contest. Two essays will be selected as grand prize winners. Each winner will receive a $3,000 educational scholarship and a full-year YMCA youth membership.
Winners and their parents/guardians will be invited to attend the 35th Annual Dr. Martin Luther King, Jr. Commemorative Breakfast on Friday, Jan. 12.
HOW TO APPLY: (See attached documents)
Reflect on this question & express your thoughts in writing:
The lessons we take from obstacles we encounter can be fundamental to later success. Recount a time when you faced a challenge, setback, or failure as it relates to racial equity, social justice, and Dr. King's dream. How did it affect you, and what did you learn from the experience?
Submit a minimum of a 300-word essay in MLA format, typed not handwritten. Essays should not exceed 500 words (two pages) and any quotations or copyrighted material used must be identified properly. To participate, please complete the application on the reverse side and submit by Dec. 8, 2023 by 5 P.M., along with your essay to [email protected]. Successful candidates are selected on the basis of substantive quality of the response, the quality of the writing and originality.
Last Updated: 11/17/23