Children's Mental Health Awareness Day 2023
Saturday, May 13, 2023
5:00 PM - 8:00 PM
Wall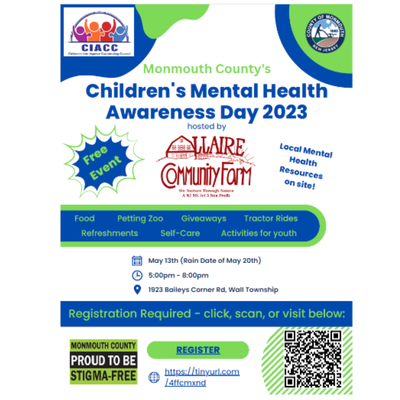 Allaire Community Farm hosts this annual event in collaboration with Monmouth County's Children's Interagency Coordinating Council. Every year we bring this event to the public free of cost to help spread awareness regarding children's mental health and local resources available to our residents. Lots of local agencies will be onsite handing out information regarding their services and looking to connect families to the resources they need.
Come enjoy an inclusive evening including the farm's petting zoo, barrel train rides, tractor rides, giveways, games, and more! Food and refreshments donated by local vendors.
Rain Date for this event is May 20th.
Contact [email protected] for questions.
---
About CIACC
The Children's Interagency Coordinating Council (CIACC) is a body of agencies, government, community members, families and youth. We serve those with mental/behavioral health, intellectual disabilities and/or substance use disorders.
About Allaire Community Farm
Allaire Community Farm is a 501(c)(3) NJ Non Profit with a mission of rescuing animals to rescue people of all ages. Our focus population is special needs individuals, teens with mental health issues and local families battling cancer in our community. We offer Pre-Employment Education Programs for the aged out special needs populations. These programs will hopefully lead to meaningful and purposeful employment for these young adults. We also offer equine and animal therapy for those in the community with special needs, anxiety, depression and PTSD. Lastly, we offer an exciting initiative to bring together urban and suburban students to learn the importance of healthy eating and organic gardening practices. By having the populations working together, we will also address diversity issues that have plagued our young people for years.
We were established in 2013 and became a nonprofit in June 2015. We have in a very short period of time seen extensive growth in our programs and support from our community. We purchased 25 acres in June of 2018 and are in the process of erecting 10 new farm buildings. To date we have received eight Official Proclamations from Wall Township and Monmouth County, The Jersey Shore Meatball Gala Red Apron Award from the Wall Community Alliance, had four galas hosted in our honor by local Rotary Clubs and businesses, and been featured in the Coast Star "People in the News," Channel 2 News, News 12 and Jersey Matters. We are supported by Whole Foods, Applebee's, Merri-Makers Caterers, Monmouth Jet Center, FirstEnergy, and NJNG, to name just a few local sponsors.
We have been visited by and have the support of our local Town Council and Mayor, multiple Freeholders, State Assemblymen, State Senators, and Congressman Chris Smith. All who visit the farm see the benefits of our programs and the necessity of its mission for our stated population. Throughout the year we offer Special needs events, Monmouth Counties Children's Mental Health Awareness Day, and Veterans Days. These days include our petting zoo, pony and carriage rides, hayrides, live entertainment, and much more.
Allaire Community Farm is operated and supported by over 200 volunteers year-round. It is this army of passionate people that makes Allaire Community Farm such a place.
All monies donated go to directly to support the mission of the farm and its programs.
Last Updated: 03/21/23