Summer STEAM Academy & Back-to-School Festival
(732) 747-2348
Red Bank
AUGUST 19-23 2019, 5:00 PM- 8:30 PM
The Summer STEAM Academy is a school readiness initiative that will provide school-aged (grades 3-12) students with an opportunity to develop the skills and experiences necessary to be successful throughout the upcoming school year. Special attention will be given to abbreviated core areas of; Science, Technology, Engineering, Arts & Mathematics.
In addition, students will also be exposed to social, health & wellness and career opportunity discussions that are designed to foster improved self-esteem and educational motivation. Due to food stress and food insecurities being a daily issue for many students in our communities - evening meals, snacks and discussions will be provided to promote healthy eating habits. The cost of the Academy is $5.00 per student. However, scholarships are available so no student will be denied the opportunity to attend.
The week of activities will culminate on Saturday, August 24 with a region-wide "Back-to-School Festival." The festival will feature, backpacks & school supplies for every student, as well as a: barbecue, live entertainment, health screening, voter registration and other exhibits for all families in attendance. The festival is being sponsored by The HOSA Fund, Inc. (House On Steven Avenue) and the goal is to provide backpacks & supplies to over 500 students in Monmouth, Ocean & Middlesex Counties.
Families can register by completing the on-line form (click on the link below) or simply complete the registration form which is attached. There is limited space available for the STEAM Academy, so please encourage families to register as soon as possible!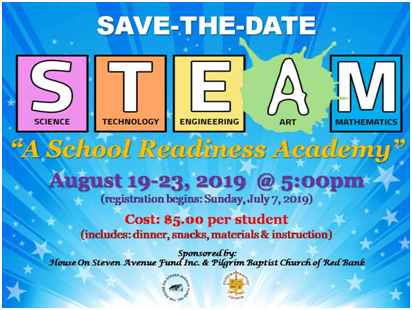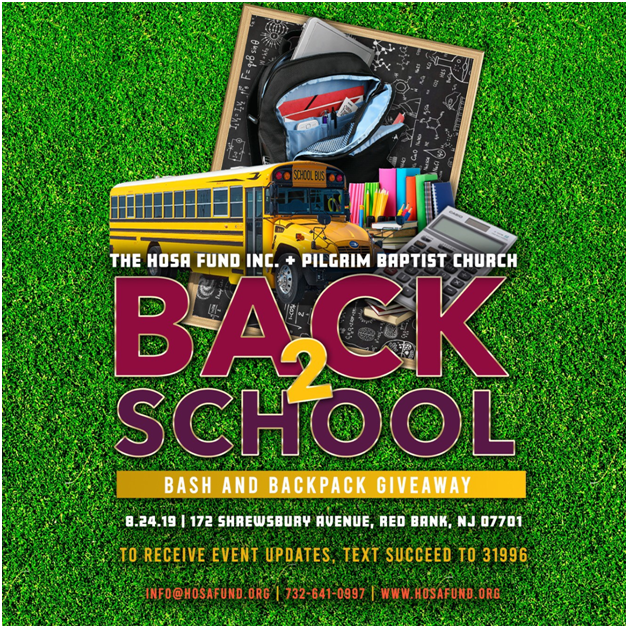 Pastor Terrence K. Porter, Senior Minister
Pilgrim Baptist Church of Red Bank
Last Updated: 08/09/19