Monmouth County Parks Spring 2020 Catalog is Available Online
(732) 842-4000 Ext 4312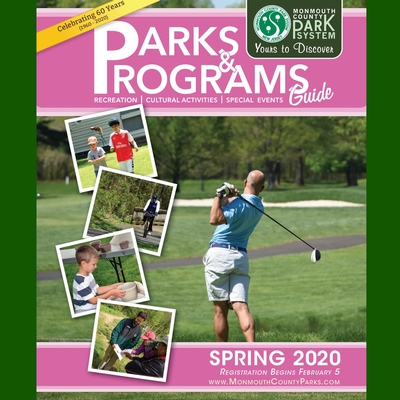 The spring volume of our Parks & Programs Guide will be available starting January 31. If you're on our mailing list, you should receive your copy soon, or you can find copies in your favorite Monmouth County parks. Registration for spring programs will begin at 8 a.m. on Wednesday, February 5.
Created in 1960 the Park System has over 40 parks, gardens, wetland/marine habitats, golf courses, historic sites, recreation areas, and conservation properties totaling over 17,000 acres.
Alert: We're looking for responsible, enthusiastic additions to our staff for a variety of summer positions. Join us at our upcoming Summer Job Fair from 5-8 p.m. on Tuesday, May 12 at the Fort Monmouth Recreation Center, Tinton Falls, and meet with representatives from the parks and learn about the positions available this coming summer.
These opportunities are great for students, teachers and those looking to earn money while picking up valuable job skills and work experience. It's also a chance to explore potential careers in recreation, forest management, education, environmental science and more while spending time in the great outdoors. Prospective employees should be at least 16 years old and a Monmouth County resident.