Toby's Sibling Group Meeting
Thursday, January 30 -
Thursday, May 28, 2020
4:00 PM - 5:00 PM
Red Bank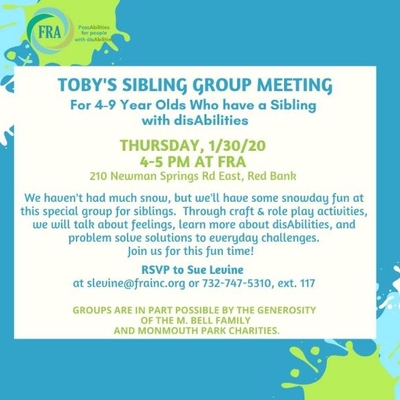 Siblings of children with special needs often have a lot of questions and concerns, and FRA groups provide an opportunity for children to safely explore these feelings with others in similar situations. Monthly group sessions are fun and combine art, storytelling and role playing as tools for talking about differences and solving challenges. Groups are in part possible by the generosity of Monmouth Park Charities and the M.Bell Family, and there is no charge for participation.
Toby's Friends Sibling Support Group (Ages 4-9)
Young brothers and sisters of children with special needs are invited to come together for discussion, problem-solving, talking about differences and having fun together! Meetings are typically held the last Thursday of the month at FRA's Red Bank office from 4-5PM. RSVP is required.
Upcoming Dates (at 4:00 - 5:00 PM): 1/30/20, 2/27/20, 3/26/20, 4/30/20, 5/28/20
Toby's Friends Sibling Support Group (Ages 10-15)
Older brothers and sisters of children with disAbilties may have growing concerns about what the future holds for them and their sibling(s). Quarterly group meetings allow siblings to connect with one another, explore feelings together and have fun. Most meetings take place at our Red Bank location from 5-7PM. RSVP is required.
Upcoming Dates (at 5:00 - 7:00 PM): 11/14/19, 2/6/20, 5/7/20
To learn more about which of the above groups is right for you or a member of your family and to RSVP, contact Sue Levine at 732-747-5310, ext.117 or email at [email protected]
| | |
| --- | --- |
| Age Groups | |
| Community Services | Family & Support Services |
| Health Services | Intellectual and Developmental Needs |
| Payment Options | |
Last Updated: 03/25/20