Jersey Shore Rescue Mission Coat Giveaway

-
Asbury Park
This event has already occurred!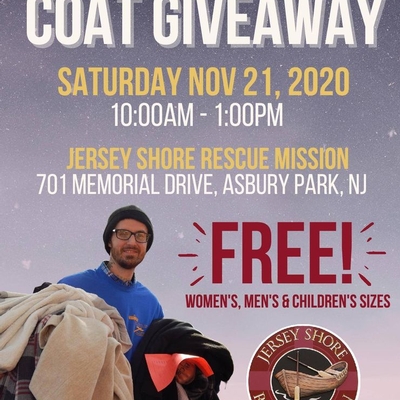 Join us for the annual Jersey Shore Rescue Mission Coat Giveaway. Winter coats will be free and available from 10am-1pm on Saturday November 21 at Jersey Shore Rescue Mission (701 Memorial Drive, Asbury Park).

Do you have a coat to donate? We're collecting gently used and new winter coats, hats, gloves and scarves. Please bring your donations to the JSRM Thrift Store located at 701 Memorial Dr, Tuesday - Saturday from 9:30am - 5:30pm.

Are you part of a group that is looking to host a coat collection? This year we would like to empower you and your volunteers by having each organization separate the coats and accessories you collect into specific colored bags so when they arrive to our Thrift Store, they are ready to go on Coat Giveaway Day. For more info, email me at [email protected] or stop by our Thrift Store to pick up your color-coordinated bags.

Thank you!
Age Groups

Children
Adolescents
Adults
Seniors

Community Services

Basic Needs / Assistance
Last Updated: 10/23/20