Akhil Autism Foundation 3K Walkathon
Saturday, May 11, 2019
9:00 AM - 12:00 PM
Edison
This event has already occurred!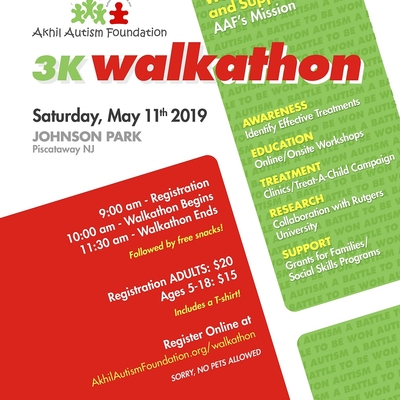 Akhil Autism Foundation (AAF) is a NJ-based non-profit organization whose dedicated mission is to Educate, Treat, Support, and Research Autism worldwide. Since 2008, AAF has provided critical resources to 1000 children, over 500 hours of online education, and over $50,000 in donations towards autism research, professional training, and parent education.
To learn more about our group programs and activities, please visit our website (www.akhilautismfoundation.org)
Our Vision: Help an autistic individual lead an independent and functional life.
Mission : Every Autistic individual deserves treatment and every parent needs education. our story: An organization that advances the worldwide autism community by providing online/onsite educational programs, latest treatments, and support for parents. Envisioning a vibrant, thriving community where parents realize their highest aspirations and get hope in life for autistic child/individual. AAF ensures that the latest information is available to both parents and the medical profession.
Our AAF Programs: · Biomedical awareness · Brain Development: MNRI method · Education and Communication · Research with universities Projects
AAF PROGRAMS 1. Awareness: Identify successful treatments 1. Awareness camps in remote places in India 2. Educate Online/Onsite workshops. 1. Autism Hour: Free webinar for parents for a year 3. Treat: Clinics/Treat-A-Child-Campaign 1. We select 10 Underprivileged children in India and provide 40 hrs of FREE treatment. 2. Treatments include all successful methods which are very expensive and are like a dream come true for them. 4. Research: Rutgers and other universities 1. Research to explore novel treatments and measure the efficacy 5. Support: Grants for families/Social Skills program 1. Educational workshop grants 2. what parents have to say 3. Care For a Friend Social skills program https://runsignup.com/Race/NJ/Piscataway/AAFWalk2019
Autism Facts:
Autism affects 1 in 68 children and 1 in 42 boys.
There is no early medical detection or cure for Autism.
Autism receives less than 5% the research of many less prevalent childhood diseases.
Autism costs a family about $60,000 a year.
The financial impact of an Autism diagnosis
Today's economy is rough on families around the country, but there are some who are impacted more than others. Having a child with autism is an emotional, physical, and fiscal feat.
The loss of one parent's income: Autistic children require around-the-clock care which is typically taken on by one parent while the other shoulders the burden of making a living to support the family.
Specialty schooling, activities and equipment: Government operated schools offer basic FDA approved methods that are ineffective beyond their limited scope, forcing parents to invest in specialty schools, activities, and tutors which can cost several hundred dollars per month—or thousands per year.
Lacking health coverage: Insurance plans exclude treatment for autism or outright refuse to cover therapies related to behavior/sensory issues because they are considered "educational" rather than medical, leaving parents to pay these exorbitant costs out-of-pocket.
Why support AAF?
At AAF our goals as AWARENESS – EDUCATION – TREATMENT – RESEARCH – SUPPORT
Our Workshops and Seminars –We identify emerging/cutting-edge treatments and therapies in the field of Autism and invite leading practitioners from all over to conduct workshops at a subsidized cost in a central location that caters to a large network of families. Furthermore we provide grants to those families that require additional financial assistance to participate in our programs.
Our Efforts Overseas – We collaborate with organizations in developing countries (with much less access to the latest therapies and treatments) and sponsor workshops, clinics and programs such as "Treat-A-Child" (in India) to spread awareness on the latest innovations and techniques in the field of autism.
Biomedical Initiatives –Consultation, evaluation, treatment plan and referral services by a registered nurse and physician at AAF clinics at a subsidized cost.
Research Grants –Our collaboration with Rutgers University
Social Skills Programs – Care For A Friend is our social skills program geared towards social acceptance of autistic children amongst their "typical" peers.
AAF PROGRAMS
Awareness: Identify successful treatments..........................$2000.00Awareness camps in remote places in India
Educate: Online/Onsite workshops.......................................$3000.00Autism Hour: Free webinar for parents for year
Treat: Clinics/Treat-A-Child-Campaign..................................$5000.00We select 10 Underprivileged children in India and provide 40 hrs of FREE treatment.
Treatments include all successful methods which are very expensive and are like a dream come true for them.
Research: Rutgers and other universities.............................$10,000.00Research to explore novel treatments and measure the efficiacy
Support: Grants for families/Social Skills program...............$5,000.00Educational workshop grants
Age Groups

Children
Adolescents
Adults
Seniors

Community Services

Arts & Recreation

Community

Education

Health Services

Intellectual and Developmental Needs
Last Updated: 03/25/19