A Culturally Competent Approach that is Inclusive and Affirming to Trans/Queer/LGBTQ+ Folks
Friday, November 1, 2019
9:00 AM - 4:00 PM
Morristown
This event has already occurred!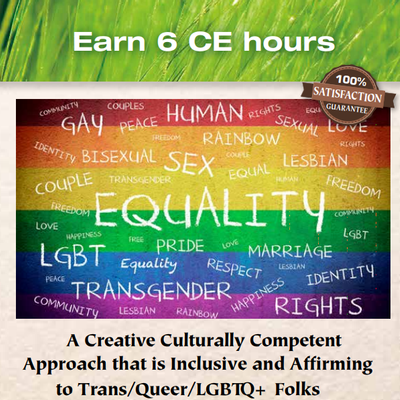 November 1, 2019, from 9-4 The College of Saint Elizabeth, 2 Convent Road, Morristown, NJ 07960
This course will address the lack of provider education about the diverse needs of the Trans, Queer, LGBTQ+ community within the social work field. Inherent in the workshop will be an emphasis on shifting attitudes towards this population by increasing safe access to healthcare, through advocacy and allyship as a real entity in today's world. There is increased evidence this population is underserved by clinicians in the state. Clinicians will learn efficacy skills, in addition to clinical tools to ensure safety and access to clinical care. There is an opportunity to increase understanding of LGBTQ+ cultural competency, gender identity, Queer history, and trauma related to family and community acceptance; all which will require advocacy and increased education on multiple levels.
Following areas will be discussed
The introduction of the LISA principle: Leverage, Inclusion, Solidarity, and Affirm will be presented through the experience of a trans person.
Emphasis on language that is inclusive and culturally competent to LGBTQ+ experiences.
Presentation of the gingerbread person as a model to deconstruct and explain gender identity, physical attraction, anatomical sex, and gender expression.
Mindfulness techniques will be explored, as well as intersectionality, focusing on their impact in clinical cases.
Review of adolescence exploration of gender and sexual identity within family systems.
Group exercises, including privilege for sale, will invite providers to examine their behaviors and expand their awareness.
Bios:
Carol Davis, LCSW obtained her MSW from Rutgers University and has practiced psychotherapy for 35 years in Highland Park and Eatontown, NJ specializing in helping people heal from psychological trauma, grief, addiction, abuse and all aspects of mental health. Carol's approach encompasses listening for an individual's unique "story" and helping them self actualize. Carol has personal and professional experience in working with grief with individuals and families. Carol has provided training for staff and interns throughout her career.
Jiselle Madison Parker is the Founder & CEO of GenderFabulous, a social platform that empowers and celebrates FEMMES of all genders through advocacy, dialogue, visibility. Jiselle has done community advocacy for over 10 years, specifically community initiatives that uplift LGBTQ+ folks, People of Color (POC), and those who are most socioeconomically oppressed. As an out and visible Queer Trans Woman of Color she understands resilience and the healing power of love. Jiselle's work has given her the opportunity of being a guest at the White House for the Annual Transgender Community Briefing, a featured spoken word artist on the first International All TRANS mix-tape TRANS TRENDERS, a Keynote Speaker at Rutgers University for the NJ Trans Youth Forum.
| | |
| --- | --- |
| Community Services | Family & Support Services |
Last Updated: 08/14/19